Ergonomic Desks

Ergonomic Desks

Step up your home office game with a desk that's not just functional but also damn good-looking. Designed for both form and function, made from 80% recycled materials, they not only benefit your productivity but also the environment.
Step up your home office game with a desk that's functional but also damn good-looking. Designed for both form and function, made from 80% recycled materials.
3> Easy Assembly
3> Lifetime Warranty
3> Fast Delivery
"Great desk with amazing stability"
I tried another standing desk on the market during Covid but had a horrible experience with the wobblyness (if that's a word?). Stumbled across Recess, and have had a huge upgrade in experience - less disruptions now!
Charlie C. (Verified Buyer)
"Ideal for small home office"
Purchase and delivery was fast and easy. Assembly was straightforward, directions easy to follow. Took maybe 2 hours to unpack, assemble, set up the space and get going. Works well so far, very comfortable and practical sitting and standing.
Claire (Verified Buyer)
"Aesthetics and price on point!"
Seems silly to say this about a desk, but I've honestly never been more stoked with a piece of furniture for my home. My home office office setup has never looked better - and what's more, I got it for a decent price tag.
Olivia T. (Verified Buyer)
Trusted By
Why Choose a Recess Standing Desk?
Stability that takes the wobble out of your work flow
My desk don't jiggle jiggle.
We've blended ergonomics with elegant and modern style. Clever details work for you (like an integrated cable port) while the timeless materials will look the part in any office.
Level up your health
Stand up and level up.
Study after study after study is coming out telling us to stop sitting all day. Standing desks are proven to burn calories, give users an energy boost and uplift in focus, improve posture and circulation and drastically reduce back pain. What more reason do you need?
Aesthetics sure to give the neighbours home office envy
Let the FOMO begin.
Our Bevelled edges, natural looking laminate tops and frame colour options make for a sleak and modern design sure to make the neighbours jelous of your space.
Purchase with peace of mind
An un-matched guarantee.
We design our products with a focus on you, using only high-quality components and materials that align with our values. That's why, if something does go wrong, we've got you covered with our lifetime warranty.
3>
"The Recess range of office furniture combines an uncomplicated, relaxed design language with durability and sustainability..."
3>
"Sustainability is a big focus for the brand. It uses FSC-certified wood for all its timber-based products and its packaging is recyclable."
3>
"Office furniture that helps companies and their employees build a good-looking hybrid office that doesn't cost the earth."
Need help to design your office?
Your focus should be your job - not sourcing and assembling furniture.
Build your office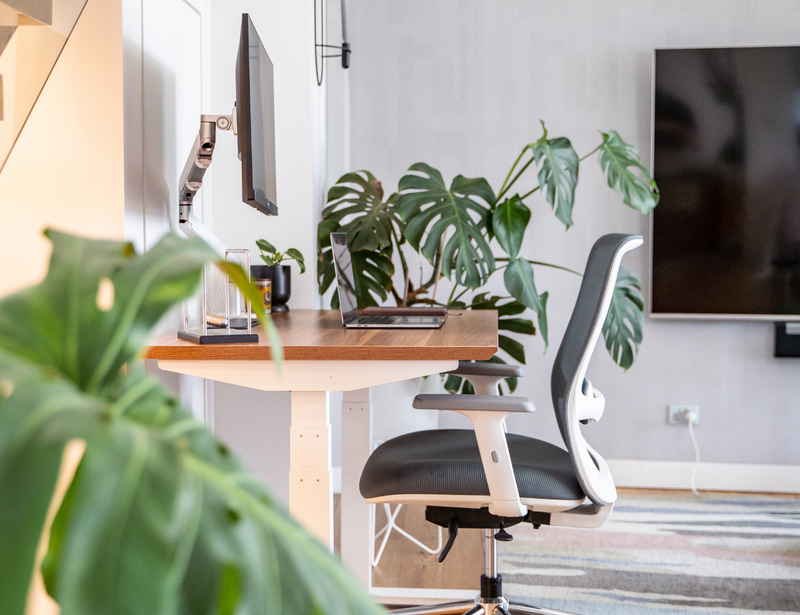 Work from anywhere
We create hybrid flexible workspaces, for the new way of work without costing the earth
How to build a home office desk?
Luckily for you, Recess furniture is easy to assemble. Your work desk will be delivered with concise instructions, helping you assemble your work desk without trouble. 
Where to place a desk in your home office?
Ensure you put your working from home desk in a place that you feel comfortable working. Some considerations can include finding natural lighting, achieving feng shui, or getting the most out of your space. Having your desk placed in a place that feels intuitive to you can help you have less distraction and work your best in your WFH environment.
How to organise your desk at home?
Removing clutter and freeing up desk space is a great way to organise your home office. Recess has a selection of accessories available that will help you easily organise your home office. Our Monitor arm to free up desk space, Filing cabinet sits perfectly under your WFH Desk and can be used to store essential documents and you should consider a credenza for larger offices to help really clear up your space and invite more productive work into your life. Find these products on our WFH Accessories page.
Should I put my PC on my desk or floor?
Matter of preference. Having your pc on the floor grants more desk space. A pc on the desk can be an aesthetic choice, plus allows for more leg room. With the cable grommet in our modern office desks, both would be suitable.