Ergonomic Chairs
Ergonomic Chairs
Sit pretty in style & comfort with our ergonomic chairs. Made from over 70% recycled materials, we're improving work without harming the earth.
3> Easy Assembly
3> Lifetime Warranty
3> Fast Delivery
"love love love"
I got the eucalypt ergo chair and mustard filing cabinet. Looks great and super functional!
Bridget (Verified Buyer)
Mmmmm it's like sitting in butter!
Are you excited to get out of bed so you can sit in your office chair? No? Well, you are missing out! This chair is the most comfortable place in the world and everything doesn't hurt anymore!
Alex (Verified Buyer)
Excellent chair!
I am an lecturer, so I spend lots of long sessions sitting. After experiencing a lot of back pain with my old chair, I was excited to get this one! It has exceeded my expectations. No back pain and it's stylish!
Dan (Verified Buyer)
Trusted By
Why Choose a Recess Chair?
Give your back a break without breaking the bank
You'll thank us later.
With up to eight simple and easy to use ergonomic adjustments, our collection of chairs will help you create the ultimate ergonomic home office, without the designer handbag price tag.
Colour options that pop in any space
Andy Warhol eat your heart out.
Our colour options inspired by the Australian landscape, are sure to give any working space the spruce up its been begging for.
No more back sweats
Stay cool under pressure.
The double-woven mesh polyester allows heat and moisture to be released - so even on the hottest days you'll feel cool and comfortable whilst doing your life's work.
Purchase with peace of mind
An un-matched guarantee.
We design our products with a focus on you, using only high-quality components and materials that align with our values. That's why, if something does go wrong, we've got you covered with our lifetime warranty.
Made for future generations
Because we care.
From mesh coverings made using partially recycled polyester to eco-friendly foam cushioning, we're making chairs without costing the earth.
3>
"The Recess range of office furniture combines an uncomplicated, relaxed design language with durability and sustainability..."
3>
"Sustainability is a big focus for the brand. It uses FSC-certified wood for all its timber-based products and its packaging is recyclable."
3>
"Office furniture that helps companies and their employees build a good-looking hybrid office that doesn't cost the earth."
Need help to design your office?
Your focus should be your job - not sourcing and assembling furniture.
Build your office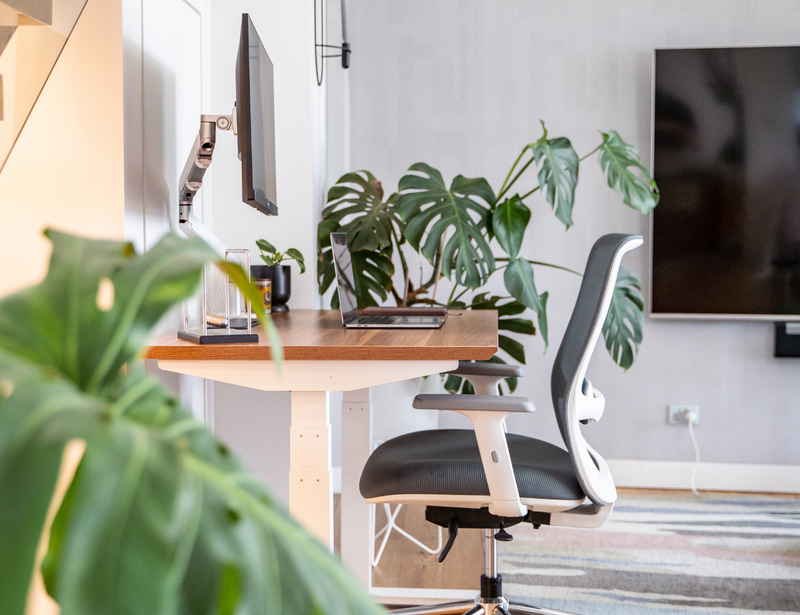 Work from anywhere
We create hybrid flexible workspaces, for the new way of work without costing the earth
What is an ergonomic chair?
Ergonomic chairs are specifically designed with adjustment features in order to provide appropriate posture and spine support. An ergonomic chair should have a lumbar adjustment to support the lower back's inward curve, which then adjusts the sitting posture, improving back pain along the way. Our
office ergonomic chairs
range has rotatable lumbar support to expand seat depth for every type of body shape.
Do I need an ergonomic chair?
Yes, you do! Few things are more important than having a comfortable chair to sit on and we like to think that we have the best ergonomic chair in Australia. 
Living a sedentary lifestyle can have damaging effects on your posture and overall health should you be practising bad posture. The least you could do to alleviate this is to have a chair that supports your back. Non-ergonomic chairs are non-adjustable and stay in a fixed position. This means you cannot adjust and align your height to your workstation which limits comfort and causes many back problems after prolonged amounts of time sitting in that position. 
Your back will thank you for choosing to buy an ergonomic chair. Check out our
standup desks
that help compliment our range of ergonomic chairs so as to ensure a comfortable and posture perfect workstation.
Are Ergonomic chairs comfortable?
Comfort is an intrinsic aspect of our ergonomically designed chair. Our ergonomic design revolves around comfort, this is done by adjustable features that allow workers from home or office to maintain the right posture while being productive. The benefits of the most comfortable office chair can include a more productive workflow, correct posture and reduced stress on the spine, neck and hips.
How do I adjust my ergonomic chair?
Our range of adjustable office chairs features six to eight ergonomic adjustments. Advice from us would be to:

Adjust the seat height

Height is the most important point of an ergonomic adjustment. First, stand in front of your chair and adjust the height of the seat pan to just below your kneecaps. Now sit in your chair with your back firmly against the chair back and adjust the seat cylinder to the proper height. You want your feet to be flat on the ground with your knees close to a 90-degree angle.
Adjust the backrest
Our design allows you to have a 132-degree tilt on the backrest. The backrest should be at an angle that supports you while sitting in your preferred posture. You should not have to lean back to feel it nor lean farther forward than you like to sit.
Adjust the armrest
Sit as close to your desk as is comfortable with your upper arms parallel to your spine. Let your hands rest on the surface of the workstation or your computer keyboard, whichever you will use more often. They should be at a 90-degree angle.
Adjust the headrest
Our Ergo Pro design is equipped with a headrest that is adjustable to help provide support and comfort to the head and neck while in a reclined position. 
Adjust the lumbar support
Adjustable lumbar support is a feature most people seek out when looking for an ergonomic chair. The lumbar support should fit right in the natural curve of your spine, typically at the small of your back directly above your belt line.
Adjust the seat pan depth
You should have a gap about the size of your clenched fist between the front edge of the seat cushion and the back of your knee when seated. Lock that position in place.
How do I set up my ergonomic chair?
For assembly, our ergonomic chairs are quite simple to assemble and won't take you much time. Our package of easy to assemble office chairs comes in with a QR code with assembly instructions and all the tools needed for the assembly. Please refer to our product assembly page for more details.